Hey there! It's been a little while hasn't it?
It seems that  I've lost my blog mojo. Actually I've just lost my 'get stuff done' mojo. I've been procrastinating and worrying and letting the fear of failing or looking silly take over a lot of my creative endeavours lately.
So I've decided that today is the day I am going to over ride the fear and just do it. Admit what I'm fearful of and then do it anyway. And what better way to get back into it than by doing Pip's Taking Stock list? The goal here being to fill it out without thinking too much about it and hitting publish without thinking about who might read it and think mean things about me!!
Here goes…
Making : Dreamcatchers
Cooking : Chicken stirfry
Drinking : Coffee
Reading: Drums Of Autumn by Diana Gabaldon. Book 4 in the Outlander series, I'm totally hooked!
Wanting: the rain to stop just for one day. Sorry farmers but it's driving me nuts!
Looking: at the destruction throughout the house made by the 14 month old tornado
Deciding: on an oven for our new kitchen.
Wishing: I had more time
Enjoying: knitting a shawl for myself.
Waiting: for our kitchen to be built.
Liking: Mommo Design on Pinterest, cutest kids room designs.
Wondering: how I'm going to keep up with the laundry this winter!
Loving: having our bedroom back after moving Digby to his own room.
Pondering: if the colours I've chosen for the kitchen are actually going to look ok when it's done.
Considering: playing netball this season.
Buying: an oven. It's more complicated than I thought.
Watching: Outlander Season 2. I'm slightly addicted to all things Outlander.
Hoping: the athletics carnival doesn't get cancelled for a third time.
Marvelling: at the relationships that are forming between the kids, I love it.
Cringing: at my hair. I need a haircut.
Needing: slippers.
Smelling: the scents of winter – wet grass, damp air, the smoke from wood fires.
Wearing: jeans and scarves (and other clothes don't worry!) everyday.
Noticing: how tall Max has grown in the last couple of months.
Knowing: the importance of self care as a mother.
Thinking: I need to have a coffee detox.
Sorting: outgrown kids clothes
Getting: more sleep with the baby in his own room.
Bookmarking: kitchen ideas.
Coveting: these double ball earrings by Blossom Couture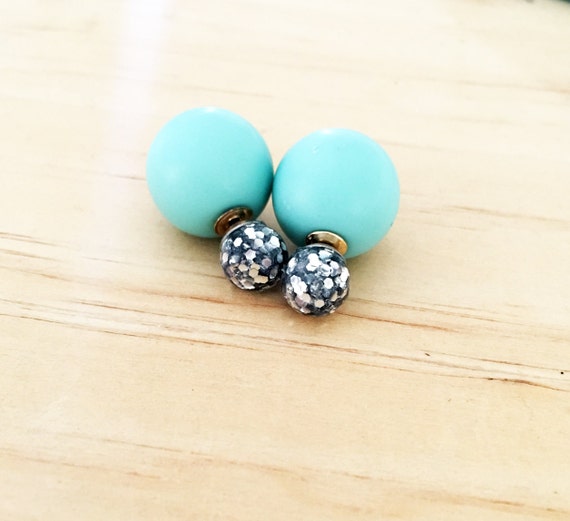 Disliking: our dog Kevin. He barks too much.
Giggling: at the things Max says.
Feeling: hopeful
Snacking: on too many biscuits.
Helping: the schoolies (our nickname for the 3 oldest who are at school) learn to tie their own ties. Hallelujah!
Hearing: the radio channel on the tv.
Confession – if I couldn't answer a prompt within one minute I left it out. So I think there's maybe 4 missing. A pretty good effort I think!
Hopefully this will bring back my blog mojo and I'll be back sooner rather than later!
Bye for now xx